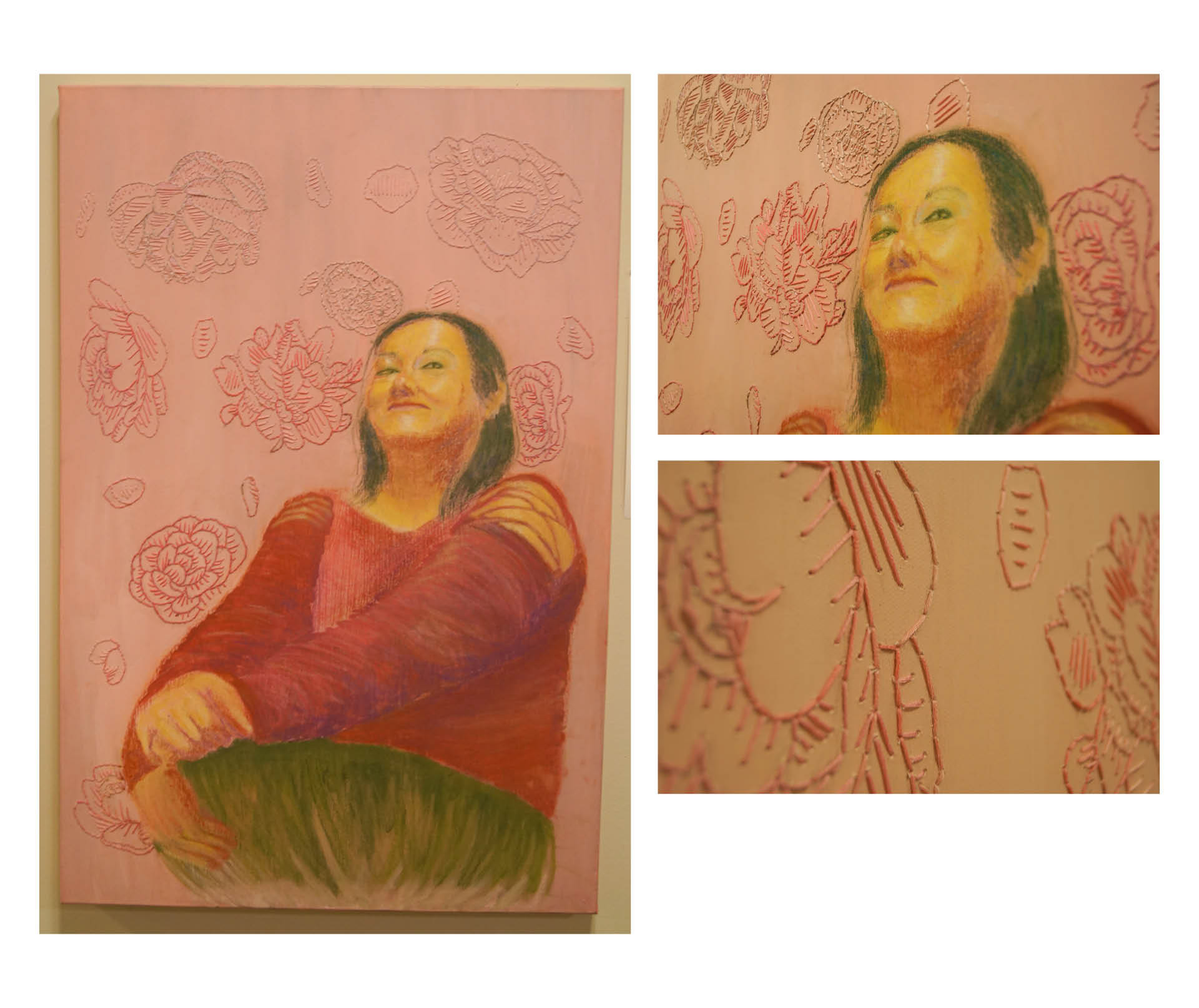 Materials: Embroidery thread, Chalk Pastel, and Acrylic on Gessoed Canvas
This series of paintings explores the theme of ageism, particularly as it affects older women. My focus for this in particular was from my perspective as a young person. I want to look forward to a life that gets exponentially better, instead of a life that supposedly gets progressively worse as I am so often told. There is an emphasis placed on youth and beauty that permeates society. There's this idea that being sexually desirable is what equates to being useful within culture and once that sexuality is gone, so is there value as a person. This is especially true for women. Often in the media, women are typically shown as being youthful and beautiful, and are usually paired as co-stars with a man in his forties or fifties as a woman twenty years his junior. I wanted to elevate women to that same status: to be seen as something to look up to and aspire to be. 
I've included references to flower language within each portrait due to their inherent symbolism. Flower language in and of itself was popular in the Victorian era, allowing people to say certain things that may not be socially acceptable to speak aloud, but can be said through flowers. I thought that this was apt, considering that when I spoke to older women on this topic, many feel like they don't have a voice to be heard and that they don't feel like they're seen. There has also traditionally been a link between the idea of femininity and the physical representation of flowers and I wanted to highlight that. This is also the reason why the flowers were embroidered, drawing a link to the fact that it has often, though not always, been seen as feminine work. 
Each portrait has a specific flower and theme, the first being is the narcissus flower indicative of self-love and I chose this to be a bright, warm yellow. Much of the time loving oneself is seen as being frowned upon because it can easily lean toward self-obsession; but loving yourself should be a happy experience and one that is seen as celebratory. The next is the magnolia, which means dignity or nobility and it was painted purple, often associated with royalty as well as mystery. The purple seems to fade from warm to cool, alternating in swirls, lending toward the fact that sometimes what can be seen as dignified can be unexpected and surprising. The final is the peony which represents strength. This portrait was painted a very light pink which is usually indicative of a frailness; however, I specifically chose it because not all strengths are things that seem "powerful".
Throughout this process of creating these paintings, I have been greatly influenced by the works of Frieda Kahlo, particularly Yo Y Mis Pericos, Self Portrait With Bonito 1941, and The Two Fridas as well as Chris Crisman's series of portraits titled Women's Work. In addition, most of Kehinde Wiley's paintings, but especially his Portrait of Carrie Mae Weems, Eris, 2017, Tanisha Crichlow (Portrait of Henrietta Maria of France, Queen Consort of England, Scotland and Ireland), 2015, and Judith and Holofernes, 2012. Shelly Newman Stevens series An Army of Women, Georgia O'Keefe's Light Iris, 1924, Vincent Van Gogh's expressive self-portraits, and Iris Apfel's life and documentary Iris.